Zerona Summary
Zerona laser treatment is a non-invasive body sculpting procedure designed to remove fat and contour the body without invasive surgery, pain or needles.
Cost
A one month unlimited treatment program starts at $1999.
Where
SpaMedica Clinic, Yorkville, Toronto, ON
Lengthy of Procedure
30 minutes treatment
Listen to our Podcast on Nonsurgical Liposuction & Body Sculpting
Are You A Zerona Candidate?
If you are looking for fat reduction treatment and want a nonsurgical alternative to liposuction, then Zerona treatment at SpaMedica Toronto is probably for you.
Contraindications to Zerona treatment include anyone who might be pregnant and any areas of open sores, infections or cancers in the areas of treatment.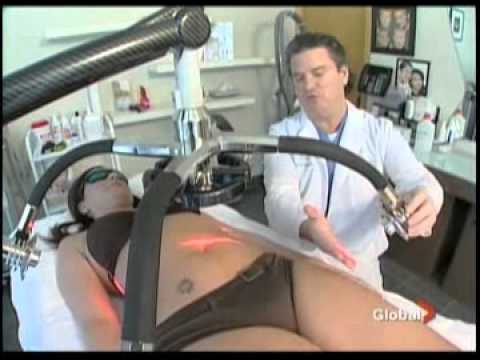 Are You A Zerona Candidate?
There are no special diets required before treatment. The treatment provider will explain the risks and complications with a treatment consent form before all Zerona treatments.
What is Zerona Laser Slimming and Fat Reduction?
Zerona is a non-invasive laser fat reduction treatment device. Zerona is used for the non-surgical fat reduction from the mid-section and truncal areas of the body.
How does Zerona fat reduction work?
Zerona is an array of non-invasive diode lasers that circle over the mid-section of the body approximately six inches over the skin. The diode lasers painlessly penetrate the skin and alter the fat cell membrane, rendering it more porous. The porous nature of the fat cell results in movement of large molecules and ions in and out of the fat cell, ultimately disabling the fat cell membrane and allowing the trigylcerides to exit the cell. As the trigylcerides exit the cell, the fat cell becomes smaller. Over the 9-15 Zerona treatment protocol (3 times per week for 3-4 weeks), millions of superficial fat cells shrink resulting a fat reduction and body contour improvement. Like millions of grapes that all shrink at once, the cumulative effect of the shrinking fat cells results in a body contour circumferential reduction and contour improvement. The Zerona fat reduction, laser slimming device works on all fat collections below the breast, including the upper arms, upper and lower abdomen, hips, and inner and outer thighs.
How does the Combining Zerona fat reduction and laser slimming with other fat reduction technologies work?
The Zerona fat reduction and laser slimming protocol calls for 3 treatments per week for 3-4 weeks for generalize truncal fat reduction. Zerona is then combined with more localized fat reduction technologies, such as BodyFX and/or UltraShape which give more localized, precise localized fat reduction and non-surgical liposuction results.
Is the Zerona fat reduction treatment painful?
The Zerona fat reduction and laser slimming device is not painful. Patients are treated first lying face down and then lying on their back in a relaxing medical spa environment.
How long does the Zerona procedure take?
Patients undergo the Zerona fat reduction treatment for 15 minutes on their back and then 15 minutes on their front. The 30-minute treatments are repeated two to three times a week for 3-4 weeks.
How long is the recovery following Zerona fat reduction?
There is no recovery period following the Zerona fat reduction treatment. Most patients are encouraged to go right back to activities of daily living, including high-impact aerobic activity.
In general, there is no maintenance required for the Zerona fat reduction and laser slimming program. And overlying skin tightening achieved with bulk heating radio frequency devices used during the Zerona fat reduction program will require maintenance to keep the enhanced skin tautness and improved tightness and contraction.
Risks/Is It Safe/Side Effects
Those who are pregnant, have a pacemaker, have infections or skin cancers in the area of the treatment are not ideal candidates for Zerona treatment or any of the non-surgical liposuction treatment programs.
What kind of results can I expect from my Zerona fat reduction program?
Zerona fat reduction and laser slimming patients who follow the program of carbohydrate monitoring, modest exercise and increased water intake generally see between four and eight centimeters of reduction over multiple pinch zones. Most patients are extremely happy with their Zerona fat reduction and laser slimming results if they've been compliant with the program. Many patients do combine the Zerona fat reduction and laser slimming with focal fat reduction technology, such as BodyFX and UltraShape for focal improvements in unwanted areas of collected fat, such as the abdomen and hips, which can be combined with their Zerona fat reduction laser slimming technology and treatment program.
How long will the Zerona fat reduction results last?
The fat cells that are injured by the Zerona laser slimming laser and are emptied of their fat content will stay small as long as carbohydrate maintenance and weight maintenance is monitored and maintained. Increasing carbohydrate content and intake, increasing one's weight, will necessarily compromise the aesthetic.
The benefits of Zerona treatment are
Effective in reducing stubborn areas of fat.

There is little to no downtime and minimal discomfort.

No invasive surgery is required
Zerona fat reduction and laser slimming program cost starts at less than $2,000 for a one month unlimited program.
This technology is also available to add-on to the Nonsurgical Liposuction program.
We are so confident that you will see results with our Zerona Program that we guarantee a minimum 3.5 inches of total circumferential reduction of the abdomen, hips and thighs.
SpaMedica Toronto offers patient financing to assist patients in defraying the costs of the program.
Toronto non-surgical liposuction and fat reduction patients will find the best combination of non-invasive fat reduction technologies at SpaMedica. Dr. Mulholland and SpaMedica have been at the forefront on non-surgical body contouring and non-surgical liposuction programs. Zerona, as a generalized fat reduction and laser slimming device, is one of the components of the multiple-technology, non-surgical liposuction fat reduction program offered by SpaMedica and Dr. Mulholland. At SpaMedica, you can be certain you will be receiving the best possible high-tech devices to optimize the amount of permanent fat reduction. In addition, Dr. Mulholland offers his non-surgical liposuction focal contour patients the opportunity to apply a significant percentage of the Zerona fat reduction and laser slimming fees and non-surgical liposuction fees one day against the SmartLipo or BodyTite liposuction Toronto procedure that would give them the best possible body contour result.