Rhinoplasty:
A reconstructive cosmetic procedure for the nose. The purpose of the surgery is to improve the aesthetic, balance and functionality of the nose.
Department
Cosmetic Surgery
Lead Doctor
Dr. Stephen Mulholland
Anesthesia
Local or General
Good candidates are patients who want to improve the appearance of their nose or patients who have health issues such as breathing difficulties via their nose.
Alternative Names: Nose Job, Nose Reshaping, Nose Restructuring Surgery
Listen to our Podcast on Rhinoplasty
Introduction
Dr. Mulholland has spent a number of years treating complex facial fractures, including nasal fractures and advanced facial trauma.
His ability to manage the bone and soft tissue deficits of nasofacial fractures provided him with an excellent and unsurpassed foundation for subsequently performing cosmetic rhinoplasty surgeries.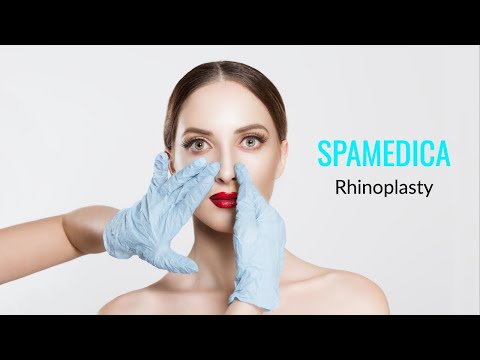 Introduction
Rhinoplasty reconstructs the structure, shape and form of the nose, as well as on occasion, simultaneously improve the airway flow and function, in order to improve nasofacial balance, function and overall aesthetic appearance.
Procedural time is typically under three hours, performed under general anesthesia using the highest levels of anesthetic care and safety. Your anesthesia will be monitored by a fully trained and certified anesthesiologist. In your postoperative care you will be monitored by fully trained recovery nurses here at SpaMedica's surgical facility.
There are various types of Rhinoplasty that can be performed based on goals and needs.
Standard Rhinoplasty: Incisions are made inside the nostrils. The nasal bones, cartilage and soft tissues are reshaped to improve the external contour— the outer portion of the nose.
Open Rhinoplasty: Frequently used for difficult or larger noses. This procedure involves one external incision across the columella (strut between the nostrils). Bones, cartilage and soft tissues are reshaped under direct vision.
Tip-Plasty: If only the nasal tip is abnormal, it may be corrected with either a standard or external (open) approach.
Large nostrils may be reduced through tiny incisions at the outer base of the nostrils with either type of Rhinoplasty.
Cosmetic Rhinoplasty
Patients with bulbous (enlarged), droopy, crooked or humped noses are often unhappy with their appearance and feel their nose is out of proportion with the rest of their face. Cosmetic Rhinoplasty corrects this by reshaping and restructuring the nose.
Functional Rhinoplasty
Functional Rhinoplasty is performed to help with health issues, particularly breathing problems due to a deviated septum and blockage of airways. Functional Rhinoplasty that focuses on a deviatedthe septum is called Septoplasty.
Septoplasty
Airway blockages can occur from injury or birth defects in the structure of the nose (most commonly the Septum). Dr. Mulholland is skilled at correcting the internal structure to clear blockages and create smoother air flow.
Revision Rhinoplasty
Revision Rhinoplasty is required when a patient is not pleased with the results of their previous Rhinoplasty, alternatively it may be done to correct health issues that arise post-surgery. Some patients feel more comfortable with another surgeon to perform their Revision Rhinoplasty. Dr. Mulholland advises patients to choose a surgeon that is well skilled in the field of Nose Surgery.
Ethnic Rhinoplasty
Some ethnicities have unique characteristic that are specific to them. Ethnic Rhinoplasty specializes in nose reconstruction and reshaping without disturbing the aesthetic look that is inherent to their ethnicity.
Alar Base Reduction
This is a technique required by certain ethnic groups typically and it addresses the width or base being out of proportion with other facial features.  It can also reduce the size and shape of nostrils if they are asymmetrical.
5-Minute Nose Job (Injection Rhinoplasty)
A 5-Minute Nose Job is a nonsurgical, minimally invasive procedure. It restructures the nose with injections using hyaluronic acid "sugar gels" to correct and enhance nasal-facial disproportion.
Good candidates for Rhinoplasty can be described as:
Patients with difficulties breathing through the nose
Abnormal appearances as a result of birth defects, injury or disease
A nose that is aesthetically unattractive or does not fit the facial profile
Candidates should have realistic expectations and understand both the risks and benefits of the procedure. Patients need to be aware that  their results may take up to a year to see  post-surgery and swelling to go down.
If you choose to have local anesthesia, be prepared for the sounds of your doctor working on the bones and cartilage of your nose.
Your nose is your most prominent facial feature. Be sure you speak with your surgeon about expected outcomes and ensure what you envision is possible. The procedure is fairly permanent, it is very difficult to undo.
Most insurance companies will not cover the costs of Rhinoplasty, look into financing. SpaMedica will help you coordinate financing if you need assistance.
Being mentally healthy and prepared for the changes is important. Ask Dr. Mulholland about 3D Vectra to view your new nose and be certain this is a change you truly want to make.
This is delicate procedure due to the slender cartilage bone and soft tissue. Plan to allow enough time to heal properly. Understand the timeline and healing process before you commit.
Age requirements
While there are always exceptions to the rule, Dr. Mulholland will not perform a nose job on anyone that hasn't finished growing and developing their nose. This is typically around 18 years of age. Dr. Mulholland will determine if you are a good candidate with a mature nose.
Maintenance
There is no on-going maintenance required for Rhinoplasty patients. Following the recovery guidelines and allowing for full and proper healing is all that is required post surgery.
Consultation
When you see Dr. Mulholland for your initial consultation, a detailed medical history will be taken. Be sure to note the name and dosage of any medications you are taking. The doctor will examine your nose inside and out. Blood tests may or may not be ordered. There will be photos of your nose from different angles, which are used on Vectra 3D to preview your future nose.  It is important to discuss your expectations in this process as well.
Pre-op instructions will include stopping smoking at least six weeks prior to the procedure. Dr. Mulholland will also review your medications and give you a plan for discontinuing any that need to be avoided pre-surgery.
Dr. Mulholland will help you decide which type of anesthesia is best for you; it will either be general or local anesthesia.  He will then make incisions to gain access to the bones and cartilages of the nose. They will decide whether the incision should be made internally or externally; typically it is made internally.
Depending on the type of procedure and aesthetic goals, the surgeon may need to have bone or cartilage to be removed. The surgeon will rearrange and reshape the bone and cartilage to be pulled tight back onto the nose, achieving the desired structure.
It is an outpatient procedure and patients usually return back home following the surgery. Some patients may be admitted for an overnight stay at the surgical centre or hospital.
The surgeon will place a splint on top of the nose that will allow it to stay in place and to help the nose to heal. This will be removed after a week. During this time, you will experience swelling, especially around the nasal region. There will be bruising as well. The bruising and swelling will start subsiding in two to three weeks.
You will have to wait a few weeks before returning back to any physical activities as your nose will need time to heal.
Questions To Ask Before Consultation
Before going in for a consultation, be prepared to ask questions that will facilitate your decision in choosing the best surgeon for your nose surgery. Here is a list of recommended questions we suggest you to ask during your visit:
How many nose surgeries have you performed in your career?
How long have you been practicing facial and cosmetic surgery for?
Are there any medical hindrances that will cause complications during the surgery I should notify you about?
Would you have any before and after pictures I may have a look at?
In general, the first step during Rhinoplasty Surgery is to gain exposure, either through an internal endonasal approach, or an external approach. Once Dr. Mulholland has adequately identified the anatomical structures, the nose bridge augmentation is performed, followed by fractures of the nasal bones to narrow the bone and make the nose appear more elegant.
The lower part of the nose may then require tip reduction or tip support augmentation or de-bulking the tip. Finally, after the bridge and tip have been shaped, the nostrils may need to be reduced and often, the partition of the nose, or septum needs to be adjusted or partially removed to optimize the probability that there will be no airway obstruction following the nose job procedure.
All these procedures and maneuvers are decided upon in the pre-operative phase, during the computer simulated surgery consultation and can be adapted at the time of the procedure.
There are two broad categories of Rhinoplasty procedures performed at the SpaMedica Toronto Rhinoplasty clinic.
External Rhinoplasty
A small incision is made in the base of the nose and the nasal skin is lifted up over the cartilages and bone structure to optimally visualize and reveal the nasal anatomy so it can be structurally changed and stabilized for an excellent long-term result.
Internal Rhinoplasty
The second broad category of type of rhinoplasty procedure is a closed, internal or endonasal rhinoplasty. In a closed rhinoplasty, there is no small incision at the base of the nose, in what's called the columella, but rather the incisions are placed entirely inside the nose and inside the nostrils.
An internal, or endonasal rhinoplasty, as it is called, saves the patient the small incision in the skin of the partition of the nose (columella), and is excellent for dorsal bridge reductions and some modest tip and airway breathing concerns. It is usually a suboptimal approach for more complex cosmetic rhinoplasty procedures involving extensive or combined changes to the tip of the nose, balancing bridge and tip work or supporting the external valves of the nose and stabilizing all these structures so there is a predictable long-term result following your rhinoplasty.
For the majority of nose jobs, the external rhinoplasty approach, combined with the internal incisions will give you the best possible cosmetic and functional outcome
There are several incision options in performing a nose job. The majority of incisions for are inside the nostrils and inside the nose, where they not visible and these are used in the Endonasal or Internal Rhinoplasty. The External rhinoplasty uses a small incision in the middle of the external partition of the nose called the columella. This small scar is only several mm's in length and usually heals beautifully and imperceptible and allows Dr. Mulholland to accurately visualize the nose cartilages and bones and to correct more accurately and for greater durability.
The Toronto Rhinoplasty procedures performed at SpaMedica are listed below
Cosmetic Rhinoplasty: This procedure is done under sedation and can incorporate incisions made inside and outside the nostrils. Depending on the problem and size of the nose, different surgical approaches may be taken. Cartilage, soft tissue and bones will be reshaped during this procedure to achieve an attractive and desired nasal shape. For a tailored procedure designed to meet your specific needs there are a variety of cosmetic rhinoplasty options offered by the SpaMedica team.
Injection Rhinoplasty (5 minute nose job): For a simple procedure that can be performed at the SpaMedica office and requires no down time, injection rhinoplasty is a good option for the person on the go, who requires immediate results. With little or no pain, swelling or bruising, a filler can be injected to give you a proportionate and smooth nose.
Septoplasty Surgery: Designed specifically to straighten the nasal septum, this procedure can help reduce nasal obstructions which often result in chronic sinus problems, and airflow impediments. For a significant reduction in surplus bone or tissue causing a deviation, Septoplasty surgery can provide much needed relief.
Anesthesia during the procedure
Many rhinoplasty patients have concerns that they will be aware of the surgery and want to be reassured they will have a "full anesthetic". Because of the nature of the surgery and the need for weakening the bones of the nose, there may be some nasal fluids that flow back into the throat and these must be prevented from entering into the lung.
Therefore, general anesthesia with throat protection is used during rhinoplasty procedures, unless the work is only on the soft tissue of the tip, which can be performed under local anesthesia.
An anesthesiologist, fully-trained and certified with an excellent reputation and work history, will meet you on the day of surgery and provide the level of anesthesia that is appropriate to your case and you will not be aware of anything during your rhinoplasty surgery.
There is also local anesthesia instilled and injected into the nose once the general anesthesia has fully taken effect, so there will be additional protection against feeling any pain. The local anesthesia helps to minimize bruising and swelling and also minimizes inter-operative and post-operative pain for the patient.
There are multiple complications that can occur following a nose job procedure. Small irregularities may occur from shifting bones following surgery and this can generally be adjusted with simple molding. The external scar on the columella generally heals imperceptibly, but can occasionally be visible.
There is a risk of compromised breathing after making the nose smaller and more attractive, so a complimentary septoplasty, or reduction of the partition is often performed to increase the airflow to compensate for the reduction in the actual size of the nose.
There are many other potential complications, most of which are very rare, following any cosmetic surgery, including a nose job. Dr. Mulholland and his operative team will review thoroughly the risks and benefits and recovery of your surgery at the time of your consultation.
All surgical procedure comes with some risk. Risk is mitigated by proper preparations, a well trained and experienced surgical team and adherence to strict guidelines that ensure the highest levels of patient safety and care.
Before you have the surgery done, it is important to make sure your doctor knows all the medications and supplements that you are taking as well as any allergies you may have to medications or things like latex, etc.
All nose job procedures will create temporary swelling and bruise around the eyes and nose. Other problems that may occur include:
Injury or holes in your septum (the wall that separates your nostrils).
Skin problems, including the breakdown of skin tissue and irritation from the tape and bandaging.
Preventive antibiotics may be given after surgery to reduce the risk of infection.
Serious nasal blockage caused by swelling of the nose.
Complications from anaesthesia.
It is also possible that the cosmetic results of the surgery will not be what you wanted.
Your surgical team will address any and all concerns.
Most patients will go home following their procedure with internal packing in the nose to minimize the risk of bruising in the first few days and a cast on the external portion of their nose.
The patient will return to Dr. Mulholland after three days to have the sutures and nasal packing removed.
After the surgery, you will be impaired from the anesthesia and will not be able to drive for at least 24 hours. Stock up on plenty of water and drinks, as you will be breathing through your mouth at first, which can cause your mouth to dry out. Soft foods like mashed potatoes or pudding are good choices to prevent unnecessary pain from crunching and chewing.
The first three days are impossible to breathe through the nose with the nasal packing and you will be a "mouth breather", but, once the packing is removed, free air exchange can occur easily through the nose again
Expect the initial healing time to be about 6-8 weeks before you can perform any activities.
Be patient with the results as it can take up to a year for the final results to be apparent. The swelling will need some time to go down.
The cast is usually removed on day seven and all sutures are out by day seven. Most patients can look quite presentable on day seven, with some minor to moderate or significant bruising under the eyes.
The nasal bridge aesthetic improvements following the surgery start to look very good by week two or three and the nasal tip looks presentable by week six. Overall, the aesthetic improvements for the rhinoplasty occur gradually and over time. The final nasal tip result is not achieved till one year after the procedure, but approximately 70% to 80% of the improvement is visible at seven months.
For best care and ensuring proper healing time, please follow the below:
Do not play with your nose; your nose is very sensitive following the surgery.
Don't do physical activities that require exertion, especially contact sport for a few weeks.
Do not wear glasses for 6-8 weeks as they can ruin the bridge of your nose. Wear contacts instead.
Avoid blowing your nose as much as possible.
Avoid the Sun as much as possible and wear sunscreen. The Sun can cause discoloration especially after a surgery.
Do not drink alcohol following the surgery as it can interfere with medication and the healing process.
No smoking for at least a month. Smoking has direct impact on the lungs and breathing. You do not want to put stress on the nose even through coughing.
Stay hydrated and stick to a proper healthy diet.
Probably the first celebrity that comes to mind when you think nose job, is Michael Jackson – who had multiple.
Sarah Jessica Parker is a close second – there is always talk about her nose over the years.
Jennifer Aniston and Ashley Tisdale had Functional Rhinoplasty to deal with breathing difficulties.
Mickey Rourke had his shares of bout and matches as a boxer. His boxing career left plenty of damage on his face that needed fixing. Cameron Diaz also received nose surgery for medical reasons after suffering an injury in a surfing accident.
Lisa Kudrow, who played Phoebe on Friends, admitted in her mind she was "hideous" and got a nose job. She said getting the nose surgery before going to a new high school was a "good, good, good change".
1550 BC – A second Egyptian medical papyrus, known as the Ebers Papyrus, is found detailing crude methods to repair and reshape the nose.
800 BC – An Indian physician known as Sushruta develops surgical techniques to repair and even replace noses.  He published a detailed manual and is the first to describe using a skin flap, cut from the forehead, to lay over the nose and repair it for aesthetic purposes.
27 BC – 476 AD (Roman Empire) – Cornelius Celsus is the next surgeon to publish medical notes on his techniques for reconstructing noses and ears.
300 AD (Byzantine Era) – Oribasius, the royal physician, published notes on using skin flaps in facial repair.
16th century – A professor of surgery at the University of Bologna, named Tagliacozzi, published notes on the surgical repair of facial wounds in soldiers.  He is the first to record using a pedicle flap in reconstruction.
19th century – In 1887, Dr. John Orlando Roe is the first modern surgeon to perform saddle nose deformity Rhinoplasty and record it in medical journals.
20th century – Notable pioneers in Rhinoplasty surgery are Freer and Killian.
Dr. Mulholland is on the cutting edge of current techniques. Come in for a consultation to discover how his skill and artistry can help you achieve your goals.
Rhinoplasty surgery is quick and simple.
While each patient and procedure is different, none of them are quick and simple. It is an intricate and complex surgery that requires a very skilled surgeon.  It can take up to four hours.
Any surgeon can perform Rhinoplasty.
A board certified plastic surgeon is the only doctor that has the required training and experience to do the intricate work needed and accomplish the outcome the patient wants while retaining a natural appearance.
The results won't last for long.
A surgical Rhinoplasty is very long lasting. The nonsurgical 5-Minute Nose Job lasts about two years though.
"I will have breathing problems after the procedure"
Most Rhinoplasty surgeries will not affect the patient's breathing long term.
Rhinoplasty is painful.
The actual procedure will not be felt due to anesthesia. Afterward, there will be swelling and discomfort, however, there is no extreme or long-term pain.
Dr. Mulholland was formerly a head and neck oncologic cancer surgeon and in the course of removing large tumors and treating complex facial trauma he developed many new techniques for rebuilding and reshaping traumatized, injured noses that had to be removed due to cancerous tumors.
Dr. Mulholland also pioneered and developed what is known as the 5 minute nose job or injection Rhinoplasty.
The five minute nose job has become popular after Dr. Mulholland performed the procedure on national television shows, such as CityLine, Breakfast Television, and The Doctors Show in Los Angeles, with excellent outcomes.
Dr. Mulholland has taught his nose reshaping techniques to over 5000 doctors worldwide and he brings these skills and international reputation to your Rhinoplasty treatment.
Rhinoplasty is older than you may think! It was performed for the first time about 2,500 years ago.
Rhinoplasty is the most popular type of facial cosmetic surgery. The latest plastic surgery statistics throughout Canada, the USA and the world, shows an increase in Rhinoplasty (Nose Job) year over year.
The benefits of Rhinoplasty include both health and personal. Patients experience increased confidence, improved breathing; attaining the lifelong goal of correcting a part of themselves they are not happy with.
The benefits are plentiful and also very personal. Some people will really get a lot out of the change and others will not feel as emotional about the decision and outcome. Understanding why you truly want the procedure will help you best determine the benefits to you.
Dr. Stephen Mulholland: Best Rhinoplasty Surgeon
Dr. Mulholland has extensive experience in cosmetic rhinoplasty procedures and is certified by the Royal College of Physicians and Surgeons in both plastic surgery and has an advanced fellowship in ear/nose/throat head/neck oncology.
Dr. Mulholland spent a number of years performing advanced head/neck oncology, removing extensive tumors and cancers of the face, nose and neck and performing complex reconstructions of these defects, as well as craniofacial trauma including nose fractures and injuries. He is recognized as one of the best Rhinoplasty surgeons in Toronto and Canada.
The cost of Rhinoplasty or nose job reconstruction surgery depends upon the severity of the aesthetic involvement and nose reshaping. In general, the cost of a Nose Job in Toronto, ON for a well-trained Rhinoplasty surgeon can vary between $5,000 – $9,000. For secondary, or "corrective rhinoplasty" (nose job that has been done before) it costs $15,000, depending on the physician you're seeing, their level of experience, speed and accuracy.
To discuss insurance policy and health coverage, book a consultation with a SpaMedica medical specialists who will be willing to talk you through payment process at our plastic surgery clinic.
To schedule a consultation for your 3D Imaging and Rhinoplasty assessment at our clinic located in Toronto, ON by Dr. Mulholland, simply call 1-877-695-2835 and a SpaMedica client service representative will schedule your appointment. Alternatively, you may fill out the online appointment request form and a client service representative will get back to you within one business day to organise your Toronto Rhinoplasty consultation.
SpaMedica has been in the service of cosmetic and plastic surgery for over 20 years. We are a clinical centre located in Toronto. SpaMedica has 60 dedicated, passionate and skilled employees – all working towards the goal of offering the best experience to patients and retaining our status as a premier surgical centre and medical spa.