Listen to our Podcast on Breast Augmentation
Introduction
Dr. Mulholland has been a pioneer and leader in the use of the VECTRA 3D® Imaging System to help patients more accurately select the size and shape of their implants pre-operatively. Dr. Mulholland has spoken internationally and taught doctors from around the world the process of using the VECTRA 3D® and the simulated images to help patients select preoperatively the size and shape of implant that best serves their goals. This "try before you buy" process has been become critical to modern breast augmentation surgery.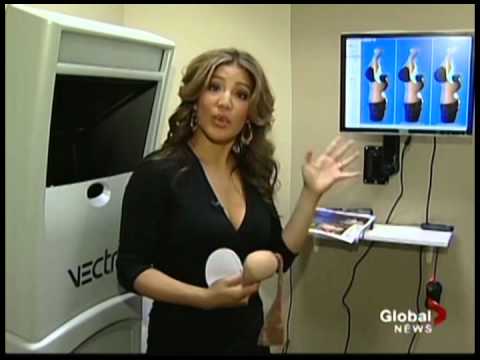 What is the VECTRA 3D® breast augmentation imaging system?
The VECTRA 3D® breast augmentation imaging system is a high-tech photo imaging station that allows patients to see preoperatively their imaged post-operative breast results with a high degree of accuracy and select different sizes and shaped implants that will accurately depict the range of improvements that they should be able to achieve.
Figure 1. A patient has the 3D breast images taken by the VECTRA 3D® imaging system. The whole imaging and simulation process is performed in the comfort and privacy of a dedicated SpaMedica VECTRA 3D® imaging room.
How does the VECTRA 3D® breast implant imaging system work?
At SpaMedica, during your breast augmentation consultation you will have the opportunity to undergo the VECTRA 3D® breast imaging process and this is included at no additional cost with your consultation.  After your consultation with Dr. Mulholland and his nurse coordinator, Dr. Mulholland will generally provide three sizes of breast implants that he feels, in his experience, will likely give you the best possible increase in volume and projection and the most natural improvement in figure, shape, and form in your breast-waist-hip ratio.
Dr. Mulholland will select three different implants – small nice, medium nice and larger nice-sized implant that he feels are best matched to your anatomy and augmentation goals.
Figure 2. The VECTRA 3D® allows patient to view their real and imaged and simulated breasts in 3D and in multiple different views. This flexibility allows breast augmentation patients to assess the various implants they are trying on in different positions and perspectives.
How accurate is Dr. Mulholland's VECTRA 3D® breast imaging process in predicting the appearance of the breast augmentation surgery?
Breast implants come in various heights, projections, and base widths and you will be able to schedule a time to undergo the VECTRA 3D® breast imaging.  During the 3D breast imaging, one of the SpaMedica expert breast imaging nurses will walk you through the selection process.
There are over 179 different breast implant sizes and shapes and all are available for you to view.  You generally start with the three implants Dr. Mulholland has suggested and then try larger and smaller implants, both round and teardrop-shaped, until you arrive at the best possible breast implant that gives you the most attractive increase in volume and proportion of your breasts as well as balancing of your figure, shape, and form.
Figure 3. A Toronto patient and VECTRA 3D® Breast imaging client of Dr. Mulholland's.  The Preoperative view and Actual post operative view at one year after Breast Implant surgery.
Figure 4. Dr. Mulholland's patient as shown above in Figure 3. The Before is the SIMULATED VECTRA 3D® image of the results of an breast augmentation using around 335g Inspira cohesive gel breast implant.  The after is the ACTUAL results of the breast surgery using this implant at 12 months. The Actual 12 month result looks better than the simulated VECTRA 3D® simulated result.
Figure 5. Before and after result of Dr. Mulholland's breast augmentation patient at 12 months.
Figure 6.  A comparison of the simulated result in the Before and the actual result at 12 months in the After.
Dr. Mulholland has been at the forefront of pioneering this predictive 3D breast implant technology and has reported results at many international meetings that show that at 12 months or more following your surgery, the imaged implant gives a very accurate representation of what you will likely achieve as long as there are no complications.
Thus, by using the VECTRA 3D® breast imaging system, Dr. Mulholland's patients can "try before they buy."  The VECTRA 3D® will not only allow you to select the best possible size and shape for your figure, shape and form, but will also allow you to see and visualize the type of lift effect that breast augmentation will give you, as well as select different implants to enhance different areas of the lost volume of projection of the breast tissue.
The VECTRA 3D® breast imaging station has become an indispensable and critical part of modern breast augmentation surgery and is one of the components and reasons why Dr. Mulholland's patients are generally so very happy with the results of their surgery.