Summary
SpaMedica offers the most extensive range of nonsurgical liposuction and noninvasive fat reduction devices in Toronto and Canada. Our non-invasive fat reduction program is tailored to your needs to ensure the best fat reduction results possible. SpaMedica guarantees a visible difference following the nonsurgical liposuction program, or you will receive a complimentary treatment.
Alternative Names
Noninvasive Liposuction, Nonsurgical Lipo, Noninvasive Lipo, Alternative to liposuction, Nonsurgical Body Sculpting, Noninvasive Body Sculpting
Where:
SpaMedica, Yorkville, Toronto, ON
Are You A Nonsurgical Liposuction and Fat Reduction Candidate?
Are you struggling with pockets of fat that are resistant to diet and exercise programs?
Do you have undesirable but limited fat deposits on your abdomen, flanks, back or thighs?
Do you wish to achieve a trimmer appearance without having to undergo an invasive surgical procedure such as liposuction
If you have answered Yes to any of the above questions then you are a perfect candidate for nonsurgical liposuction treatment.
Listen to our Podcast on Nonsurgical Liposuction & Body Sculpting
Why Choose SpaMedica?
SpaMedica offers various nonsurgical liposuction and body contouring procedures. If you have unwanted fat that you are struggling to get rid of, there is no one way to best nonsurgically destroy permanently localized areas of unwanted fat. In fact, there are multiple excellent technologies that have proven ability to kill fat cells nonsurgically and they all work in a different way. So to get the absolute best result, greatest fat cell reduction in that localized collection you do not like, you will have to combine a few modern technologies to get the best results. At SpaMedica, Dr. Mulholland has been at the forefront of the development of these technologies and owns them all, so your SpaMedica nonsurgical liposuction coordinator can customize the best multi-technology fat reduction program for you.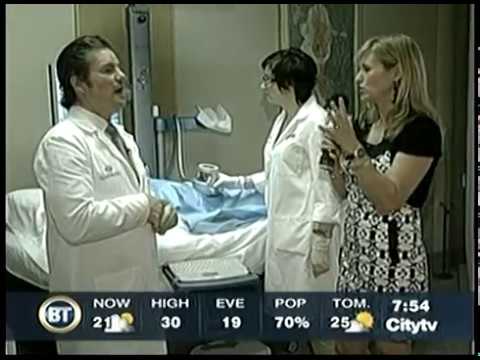 How does the combined nonsurgical liposuction fat reduction program work?
Toronto nonsurgical liposuction patients seek out Dr. Mulholland and SpaMedica for the unparalleled access to the best technology, best experience and best outcomes. SpaMedica offers you the best combo treatment experience at very affordable prices.
By combining CoolSculpting (freezing the fat cells), SculpSure (heating the fat cells), with high-frequency focused ultrasound in the form of the UltraShape® (cavitating the fat cells), together with bulk heating radiofrequency technology, like the BodyFX, SpaMedica is able to offer you the highest possible concentration of fat cells that can be permanently killed and the best possible skin tightening and  nonsurgical fat reduction in your localized area of fat collection.
The CoolSculpting and/or SculpSure is combined with the BodyFX and/or Ultrashape program for an additional 6 weeks. Treatments are done once weekly for 6 weeks. BodyFX will kill fat cells, deliver fat reduction and tighten skin, while the Coolsculpting, SculpSure and Ultrashape will enhance the amount of permanent fat reduction.
Other high-frequency focused ultrasound technologies such as Liposonix®, also provide a vertical depth focus of thermal destruction of fat cells similar to that which can be achieved with the non-thermal cavitational effects of UltraShape®. At the end of the program many patients turn their attention to sculpting other areas of their body or adding one more CoolSculpting and SculpSure to the area to optimize the outcome.
Do I have to do all the different technologies and treatments?
No, some patients do not need all the treatments and sessions because they may have a small amount of fat or tight skin. The SpaMedica nonsurgical liposuction program will be customized to suit their soft tissue characteristics and expectations. Some just do CoolSculpting or SculpSure and assess their results before deciding if they want to add other components and technologies to their nonsurgical liposuction program.
CoolSculpting, from Zeltiq, as the name implies, is a suction coupled device that uses very cold temperatures to freeze your unwanted fat cells painlessly.  There are various treatment applicators that can be applied to the areas of unwanted fat, most commonly the abdomen, hips, outer and inner thighs, arms and bra line. There is even a Coolsculpt "mini" for the double chin!  CoolSculpting can reduce 2-4 cm of fat comfortably and predictably and affects up to 22% of the fat cells in the treatment zone. There is no downtime and 2 treatments, 6 weeks apart are usually required.
SculpSure:  SculpSure from Cynosure, uses gentle heat (hyperthermia) to gently kill the fat cell in localized unwanted collections. Like CoolSculpting, the SculpSure has a series of 4 applicators that can be configured around different unwanted fat collections. Each of the 4 applicators delivers a gentle laser energy (the 1060m diode beam) to heat the unwanted localized fat collection. Through the high tech use of cooling the applicator surface and temperature-energy cut off loops, the SculpSure is able to maintain the fat temperature at 45-47 degrees for 25 minutes, which induces a fat cell death.  Up to 24% of the fat cells in the treatment field under the applicator will die. There is no downtime and two treatments, usually 6 weeks apart is required.
UltraShape (Ultrasound and cavitate your fat away).  Ultrashape uses gentle pulse, focused high frequency ultrasound waves to damage the cell membrane, a process called cavitation, which results in the death of the fat cell. UltraShape high frequency focused ultrasound (HIFU) are painless, safe and effective in reducing 2-4 cm of fat. Treatment usually last 20 minutes per zone and there is no downtime. 3 treatments are usually required, 2 weeks apart and you are done in 6 weeks.
BodyFX (Electroporate your fat cells away):  The BodyFX is a suction coupled device that releases a special high frequency and voltage short pulse of Radiofrequency current that destroys the fat cell painlessly through electrical damage to the fat cell membrane called irreversible electroporation, or IRE. The BodyFX also emits standard radiofrequency energy to tighten your skin. Just like when you are considering liposuction, you need to tighten skin as well as shrink fat, BodyFX will do both, as studies show after 4-6 treatment up to 429cc of destroyed fat and 15-25% more collagen production.
What kind of results can I expect with a nonsurgical liposuction treatment program?
At SpaMedica, optimal results are achieved by combining the best possible fat reduction and skin tightening technologies that have peer-reviewed permanent fat reduction studies and benefit to back them up.  By combining technologies, you will achieve the best possible permanent fat reduction and nonsurgical lipo results available on the market today.  There is not one technology, from the radiofrequency bulk heating fat contouring device family, from the focused ultrasound family, the hyperthermia SculpSure, or even the hypothermal CoolSculpting® Zeltiq family of devices that delivers a consistent, best-in-class permanent fat reduction all by itself. Dr. Mulholland has found with his extensive experience that by combining the best technologies in a programmatic fashion, one can achieve optimal fat reduction and skin tightening results.  The kind of results that are commonly achieved in the average individual range from two to six centimetres of circumferential, permanent fat reduction in the abdominal region, with 700-800 cc of fat killed, to three to five centimetres in the inner and outer thigh region.  This roughly equates to one dress or pants size reduction following the program.
How long will my fat reduction results last?
Because of SpaMedica's combined technology, nonsurgical liposuction and permanent fat reduction program results in a death of the fat cells. These fat cells will not return, will not store carbohydrates and will not re-expand.  As such, as long as patients maintain their pre-program weight, the contour improvement of focal fat reduction is permanent in nature and the results will be permanent.
However, weight gain and excess carbohydrate intake will result in the expansion of those cells that are left in the area of the contour improvement and these cells, as well as other fat cells in your body, will swell following weight gain and tend to ruin the aesthetic contour results. So, weight maintenance, just as in liposuction surgery, is important following the program.
Is there any maintenance required?
There's no specific maintenance to maintain the permanent fat reduction (other than avoiding weight gain) that was achieved during the program.  However, as mentioned during the description of the program above, SpaMedica combines bulk heating radiofrequency technologies in addition to focal fat reduction technology for fat reduction and skin tightening.  The reason the bulk heating radiofrequency is deployed, in addition to fat reduction, is to tighten the skin and result in skin and soft tissue contraction.  As the fat contour is improved, it is important to tighten the overlying skin to avoid any obvious skin laxity.  The skin tightening that occurs from the radiofrequency devices discusses above will result in approximately 15% to 20% thickening of the dermis with new collagen and elastin.
With time and age, the enhanced skin contraction that has been achieved will lessen and reduce, as your aging skin enzymes break down the new collagen.  It is important that a single bulk heating radiofrequency skin tightening treatment is performed every three to four months in the area of your focal fat contour in order to "protect your investment" and maintain and achieve the tightest possible skin over your new contour.  This is very similar to those individuals that have undergone facelift surgery or even tummy tuck surgery, where optimal skin tone and skin tautness can be prolonged and maintained with simple, nonsurgical radiofrequency bulk heating treatments performed intermittently, usually one treatment every 3 months
Nonsurgical Liposuction Program Cost
How much will my SpaMedica nonsurgical liposuction permanent fat reduction program cost?
There's a range of fees depending upon the number of zones treated and the size of each zone.
However, in general, the series of treatments with combined technologies start from $2,500 for the first zone.  This program will include the 3 BodyFx treatments and/or 1 UItraShape treatment over the 6 weeks. The second and third zones, which are often combined, can be purchased at a lesser price.  In general, the SpaMedica nonsurgical liposuction program costs approximately one-third of what you would spend with Dr. Mulholland doing specialized liposuction surgery, such as high tech SmartLipo™ or BodyTite™  minimally-invasive liposuction treatments.
Coolsculpting costs start at:  $899 per treatment for a small zone or $1599 per treatment for a large zone
SculpSure costs start at: $499 per "PAC" or applicator
Additional 6 week program of 1 Ultrashape and/or 3 RF Body treatments $1799/area (with purchase of a pkg)
Add one month unlimited Zerona: additional $1199
Benefits of Nonsurgical Liposuction
The benefits of nonsurgical liposuction treatments are
They are effective at reducing stubborn areas of unwanted body fat.
It is an outpatient treatment with little to no downtime and minimal discomfort and side effects
No incisions are required for treatment.
Nonsurgical Liposuction FAQs
Why choose SpaMedica and Dr. Mulholland for my fat reduction treatments?
At SpaMedica, Dr. Mulholland has assembled the best possible technologies to deal with the permanent reduction of fat in the areas of focal contour concern.  Not only will you experience the best possible technology with the most experience at delivering that technology, at SpaMedica, Dr. Mulholland offers his Toronto nonsurgical liposuction and fat reduction patients a significant value-offered coupon of the fees spent in the nonsurgical program to apply against SmartLipo™ or BodyTite™ minimally-invasive liposuction surgery to further enhance the result, if at any future point a patient should choose to improve upon the fat reduction results achieved.
Don't forget that at SpaMedica Toronto, we guarantee a visible difference following the nonsurgical liposuction program, or you will receive a complimentary treatment.
Dr. Mulholland is also one of Canada's foremost liposuction surgeons. All SpaMedica non-surgical liposuction patients have up to 5 years to apply a portion of their program cost against any of SpaMedica's high-tech liposuction techniques, including: BodyTite, SmartLipo and VaserLipo.