Summary
The jaw line, jowls, and neck undergo certain inevitable changes as we age. There occurs a loss of tone in the facial support muscles that results in loose and sagging skin. A neck lift involves elevation and lifting of the skin for a more beautiful and youthful appearance.
Anesthesia
Local anesthesia
Where
SpaMedica Clinic, Toronto, ON
Are You a Candidate?
If you have localized deposits of fat under the chin in the front part of the neck, if you have muscle laxity just under chin, or if you have sagging skin combined with folds in the anterior part of the neck (under chin only) then you may be a candidate for a neck lift.
Listen to our Podcast on Necklift
ET Canada Necklift
Watch as Dr. Stephen Mulholland performs a Necklift on ET Canada. The results are incredible.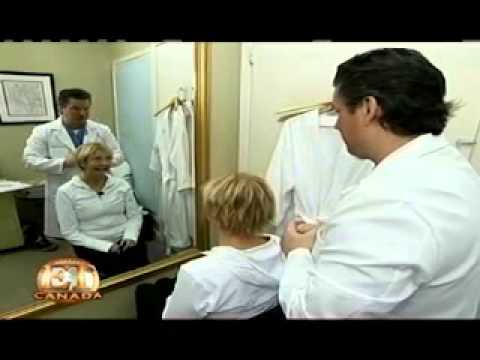 The procedure is done on an outpatient basis under local or general anesthesia. The procedure requires an incision under the chin where the fat is removed, the muscles are tightened, and the loose skin is removed – all depending on the patient's individual findings.
The incisions for your neck lift can be hidden under the chin, and inside and behind the ear. The neck lift may involve tightening and suturing together the two neck muscles under the chin called the platysma bands. You will have a thorough consultation process with Dr. Mulholland and his team to determine the best possible procedures for you to address your neck concerns.
Your neck lift will be complimented with a recommendation for our medical grade Home Skin Care which will help support and enhance your results. Long term maintenance of your next lift results can be achieved by postoperative FotoFacial ST and Ematrix treatments.
You will receive a complementary program of FotoFacial skin correction treatments as part of your treatment package.
There are many different types of neck lifts, jowl and jaw line lift procedures.
Dr. Mulholland has dedicated almost 15 years to refining, enhancing and developing these techniques and has a worldwide reputation for natural and beautiful surgery results.
Dr. Mulholland helped engineer and pioneer several of the necklift procedures that are currently popular in facial rejuvenation surgery. The use of Radiofrequency energy to melt the under chin fat, or laser energy supporting sutures and threads to support and correct neck bands has been very successful and can be combined with BOTOX Injectable.
Dr. Mulholland developed many of the sub dermal laser and Radiofrequency heating techniques that give the skin 10% to 20% contraction and will minimize the risk of you having loose or lax skin after the necklift procedure. Most necklifts can be performed under local anesthesia or local and IV sedation and there is usually no need to have a general anesthetic. The procedure may last between 2-3 hours depending upon the number of ancillary procedures performed. The risks of complication are minimal and the overall clinical results of a necklift are very predictable and in Dr. Mulholland's hands are natural and attractive.
Dr. Stephen Mulholland has been the recipient of many awards and has been named by "Toronto Life", "Flare" and in "Toronto Fashion" as one of Toronto's best neck and face lift surgeons. Dr. Mulholland has taught well over 5,000 physicians the techniques of youthful, comprehensive facial rejuvenation.
Your SpaMedica necklift may be combined with non-surgical treatments such as MyoFacials, eMatrix treatments, FotoFacial® treatments and skin care peels to enhance your results and to maintain your beautiful and youthful neck.
Patients stay overnight at the SpaMedica Plastic Surgery facility and go home the next day. There is a special chin and neck wrap that helps support the healing. Initial discomfort is easily controlled with oral medication.Swelling and bruising disappear over approximately 2 weeks and the neck lift aesthetic results start to look good. The final result is evident in 1-3 months.
Dr. Mulholland's plastic surgery facility is a state-of-the art, one of a kind center, that combines high tech, surgical and non surgical solutions for facial rejuvenation, as well as a fully certified, 24 hour overnight stay surgery center, certified by the Canadian Association for Ambulatory Surgical Facilities.
Dr. Mulholland has assembled an excellent surgical team that will be able to manage your Toronto neck lift surgery from information gathering to pre-procedural appointments and then to excellent, natural rejuvenative neck lift results and finally to the caring, attentive and thorough postoperative care.
During your consultation, the SpaMedica treatment professional will discuss the treatment options available to meet your aesthetic concerns and will provide you with a quote.
Necklifts start from $14,999
To see if you are a viable necklift candidate you can upload three photos on our website through our consultation form or book an appointment with Dr. Mulholland his team of experts. Fill out our consultation form here or call SpaMedica now at 877-695-2835 to schedule an appointment.