Summary
Tummy Tuck is a skin tightening procedure of the abdominal walls involving the removal of excess skin post-weight loss and pregnancy. An alternative name for the procedure is abdominoplasty. 
Before and After Gallery
Length of Procedure
2-6 hours
Cost
Starting from $9,999.00
Anesthesia
Local or General
Lead Doctor
Dr. Stephen Mulholland
Alternative Names
Abdominoplasty
Have you lost an extensive amount of weight and have loose hanging skin around your stomach? If diet and exercise is not helping the cause, then the tummy tuck is the procedure for you. For the procedure, it is important to be at your ideal weight and optimal body fat percentage.
Listen to our Podcast on the Tummy Tuck
Introduction
Tummy tuck (or abdominoplasty) removes the loose hanging skin and excess fat by tightening the muscles in the abdominal wall.
The surgery is most appropriate for patients who have either lost an extensive amount of weight, have loose skin following pregnancy or patients that are looking to tighten their abdomens.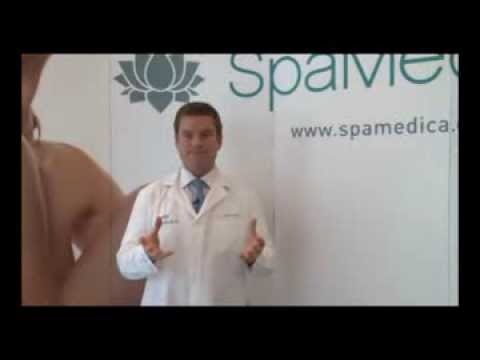 Introduction
Tummy Tuck Before and After
Reasons to Get a Tummy Tuck
If you have loose hanging skin over your abdominal region

If you want to remove your flabby skin, rid of excess fat or make the stretch marks less noticeable

if you want to feel more confident in your body

If you want a flatter stomach and potential ab definition

If your childbearing years are over (decided on not having any more children)

If exercise is not ridding the excess fat and skin
You will feel more confident in their tighter skin and flattened the stomach. Tummy tuck is one of the more popular procedures for both men and women.
Tummy Tuck in Toronto (Canada)
Procedure Details
The procedure is usually performed under general anesthesia (mini and modified abdominoplasty are similarly performed).
The following are the types of tummy tucks are mini, modified, standard and extended abdominoplasty:
Mini-abdominoplasty

tightens the lower abdominal wall skin only (shortest scar).

Modified abdominoplasty

addresses conditions where just the muscle wall or just the abdominal skin requires repair.

Standard abdominoplasty

tightens all of the abdominal wall skin and muscles (standard scar).

Extended abdominoplasty

tightens the abdomen and the flanks or sides (longest scar extending around the flanks onto lower back).
For a smaller scar, you should consider a mini tummy tuck. This procedure works below the belly button to tighten and flatten the lower area of the tummy. However mini tummy tucks are best for patients that have minimal loose skin that hangs on the lower portion of the stomach, not stretching to the sides.
The operating time varies depending on the type of tummy tuck and the extent of aging and elasticity. For mini and standard tummy tuck, the operating time is 2-3 hours.
For an extended tummy tuck, the procedure can take up to six hours.
Pros and Cons for Tummy Tuck
PROS
Having a flatter and defined stomach

Feeling confident and unwary wearing your bathing suit or shorts

Tummy tuck reduces the sight of stretch marks and flabby skin

Elimination of unwanted skin

Fitting into clothes better
CONS
Noticeable scarring on the stomach or bikini line

Possible formation of blood clots and other skin related issues

Take months before you can continue rigorous exercises

Blood leakage at the sight of incision
Study both sides of the tummy tucks, the pros and the cons. Be equipped with knowledge before you fully decide on pursuing the procedure.
The benefits of the tummy tuck for patients is having a tightened skin that is not sagging with aesthetic benefits of having skin that contours well with the body. A tummy tuck provides an opportunity to look and feel better.
The biggest benefit for patients is the boost in self-confidence. Having loose skin deters people from performing activities such as going to the beach. With a flatter stomach, most of our patients cannot wait to get into their bathing suits to show off their new, tone stomach.
Other benefits include:
Stretch Marks
Stretch Marks occur with the stretching of the skin due to either weight gain or pregnancy. The tummy tuck tightens the skin and makes the stretch marks less noticeable.
Abdominal Wall Tightening
Having a toner stomach makes patients feel more attractive and sexier. Patients also are happier with not having a hanging skin while sitting.
Pregnancy Belly
Childbirth is a beautiful event in human life, but it can be hard on some bodies. The skin stretches greatly during pregnancy and in some cases, it is hard to regain the flat stomach appearance. Tummy tuck allows women to feel youthful and fit again.
The tummy tuck is best done as an alone procedure due to it being a very invasive surgery. Most often, a bit of Liposuction will be required for the surgery to be performed since some excess and annoying fat might be intrusive.
Female patients oftentimes consider breast augmentation with their tummy tuck. Discuss with your surgeon regarding your profile and additional surgeries you would like to be performed with the abdominoplasty.
The risks and complications of a tummy tuck includes bleeding, infectio, and fevers. If any of these signs do show up, report to the doctor immediately. Complications can occur with adverse effects to anesthesia.
Pain, swelling and bruising is expected. The doctor will provide medications to help alleviate some of the pain. If the pain is excruciating, visit your medical centre and surgeon.
After Care Instructions and Expectations
Tummy tuck, or abdominoplasty, can be one of the more uncomfortable plastic surgery procedures and probably requires more time-consuming and limiting recovery. Many Patients stay overnight at the clinic in Toronto and then wish to have some assistance at home for a few days. You will be encouraged to be moving and walking regularly within 1-2 days.
Light activity is comfortable in 10-20 days.

Sports will not be comfortable for about 6 weeks.

Do not perform weight lifting that involves abdominal muscles nor contact sports without the doctor's approval
Immediately after the surgery, you will wear a compression garment that will help establish the connection between the repositioned tummy skin, the underlying muscles and flanks.
The compression should be worn 22 hours a day for three weeks after your tummy tuck procedure. The next period of three weeks will require the compression to be worn 12 hours a day during the day and left off during the night, for a total of six weeks.
During the initial few weeks, you will feel that your tummy and flanks may be more swollen than they were during the operation. This is common and is a natural post-operative nature of swelling. Over the period of three to six weeks, the tummy flattens and the flank contour improves and a noticeable improvement will be seen.
The doctor will provide you with a four to six-month post-op program designed to reduce the scar coloration as well as optimize the skin tightness and body contour.
The scars can be hidden with undergarment; Dr. Mulholland offers scar reduction, which is complimentary, following the surgery.
It is common for a small amount of fat to appear about the pubic scar from the upper tummy. The small muffin top is unwanted fat that was not able to be removed during the initial surgery, can be removed through liposuction in the one-year post-op.
General maintenance for the tummy tuck is sticking within the weight range and continuing with muscle building exercises and following a proper diet. Note: consult regarding what exercises and activities can be performed after the surgery and when.
Patients who get tummy tuck are generally happy with their results for several reasons:
Their clothing fit and look better
They feel more comfortable in their skin
Having a slimmer waist without hanging the skin
Looking better in the mirror
Wearing dresses and suits are a lot more fun
With an excellent surgeon, your tummy tuck will leave you feeling confident and slimmer.
The cost of the tummy tuck procedure at our clinic in Toronto, ON starts from $10,000. Occasionally, if the abdominoplasty is being performed for medical reasons, the procedure may be partially covered by insurance. Usually, the patient is responsible for payment. Refer to our special financing program for ease of payment.
The cost of your surgery will also depend on the extensiveness of the procedure, e.g. an extended tummy tuck vs mini tummy tuck.
A medical evaluation will be taken during the consultation at SpaMedica in Toronto to conclude if you would be a good candidate for abdominoplasty. The doctor will need to examine your excess skin and determine which type of tummy tuck will be the best choice for you, and whether or not you will need liposuction to remove stubborn fat.
In your consultation, you will be carefully described the necessary diet regimen you should follow prior to the surgery and stop harmful habits that will complicate surgery such as smoking.
Future patients will be advised to have realistic expectations for the surgery and the importance of staying within the weight range following the surgery due to inelasticity of the skin. Patients that are pregnant, carry diseases or have cancer lesions will not be good candidates for the procedure.
Women who have loose skin post-pregnancy, are advised to get the tummy tuck once their childbearing years are finished.