Are You A Candidate?
Generally, most vaginal laxity patients with vaginal relaxation syndrome are good candidates for non-surgical laser vaginal tightening.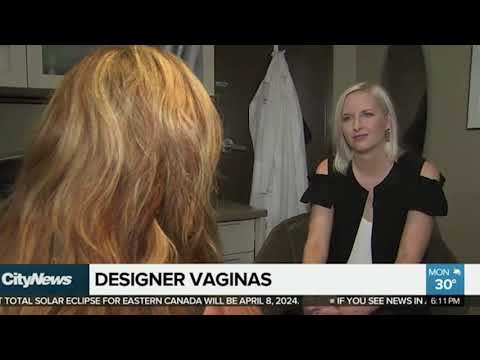 Listen to our Podcast on Vaginal Rejuvenation
What is Surgical Vaginoplasty?
Vaginoplasty (surgical) is the actual surgical excision of lax vaginal canal tissue, mucosa and the surgical tightening of underlying vaginal muscles to improve the signs and symptoms of significant vaginal relaxation syndrome, and provide vaginal tightening. Whereas Laser Vaginal Tightening and Rejuvenation uses a gentle laser or radiofrequency device to non invasively tighten the vaginal canal and improve the pain, discharge, dryness and inflammation commonly associated with the Genitourinary symptoms of menopause and Vulvovaginal atrophy.  A Surgical Vaginoplasty can be performed under local anaesthesia and involves the actual surgical tightening of the lax muscles and tissues of the vaginal Canada.
Figure 1.  Vaginaplasty with a Labial minora reduction
These non-surgical vaginal tightening treatments include the  Mona Lisa Touch fractional CO2 vaginal rejuvenation, the CORE Intima fractional CO2 vaginal rejuvenation, the the Fractora V minimally-invasive fractional radiofrequency tightening,  the FORMA V, the ThermiRF and VA, and the V-Tite procedures.  Most patients with mild-to-moderate laxity respond to these non-excisional and non-surgical techniques with high satisfaction scores in terms of improvement of symptoms of vaginovulvar atrophy, urinary incontinence and vaginal tightening.
However, when trauma to the vagina, vaginal canal and introitus, usually from childbirth with episiotomy, high-forceps delivery carrying and a tear extending through the postero-lateral wall of the vagina into the perineum results in excessive laxity.  
Laser vaginal rejuvenation and laser vaginal tightening, the VTite, the Fractora V, MonaLisa Touch and CORE Intima and ThermiRF will be inadequate to provide adequate levels of tightening for significant laxity and a surgical vaginoplasty is usually indicated.  In these circumstances, a surgical laser-assisted surgical vaginoplasty will be recommended.
A thorough consultation and examination by your SpaMedica gynaecologist, Dr. Sasha Svystonyuk will include examination of the Mons Pubis, vulva, labia majora and minora, vaginal canal and cervix.  Depending on your symptoms and the degree of vaginal laxity, non-invasive laser vaginal rejuvenation and laser vaginal tightening or radiofrequency vaginal tightening will be recommending using the VTite, the Fractora V, the MonaLisa Touch, the CORE Intima or the ThermiRF/VA or Forma V.  All these non-ablative or minimal-ablative techniques have very little downtime and between one and three sessions are required.
For more significant  vaginal laxity, surgical Vaginoplasty will be recommended and is performed under a local anaesthesia with IV sedation, or general anaesthesia in the high-tech nationally renowned SpaMedica Cosmetic Plastic Surgery Centre.
Dr. Sasha is the SpaMedica director of the Female Health and Vaginal Wellness Program and performs the laser assisted surgical vaginoplasty procedures. Dr. Sasha is a nationally recognized for minimally-invasive laparoscopic gynaecology procedures and female vaginal form, function and wellness surgery. The Surgical Vaginoplasty procedures are performed as an outpatient at the renowned SpaMedica private plastic surgery center.
Figure 2.  Dr. Sasha Syvstonyuk, SpaMedica's Head of the Female Health and Vaginal Wellness program performs a full assessment and examination to ensure you are a Surgical Vaginplasty candidate and then performs the procedure himself.
Redundant mucosa of the posterior wall is removed and lax vaginal floor muscles and perineal- floor muscles are repaired.  This procedure takes approximately one to two hours and is performed under local anaesthesia with IV sedation or oral sedation.
To schedule a surgical Vaginoplasty consultation, Toronto Vaginal Tightening patients should simply fill out the online consult request form on this website page, or call the number and a client service representative will be with you promptly.
The SpaMedica Female Health and Wellness Gynaecology team look forward to helping you towards total vaginal wellness.
After Care Instructions and expectations
The surgical recovery is relatively quick.  Patients can return to low-impact activities with a sedentary job and normal ambulation almost immediately.  High-impact activities such as full return to exercise and sexual intimacy will take approximately six weeks. Most patient should take 3-7 days off work and heavier activities. During you post op recovery, you will be followed up closely by the SpaMedica Female Health and Wellness Gynaecology Team.
Patients with significant laxity who don't respond to minimally-invasive techniques such as laser vaginal tightening and vaginal rejuvenation, the V-Tite non-ablative coagulative tightening, the Fractora V, Forma V the MonaLisa Touch and the Syneron CORE Intima generally respond very well to surgical Vaginoplasty; although, more invasive with more recovery.  For moderate-to-severe vaginal relaxation syndrome, this is the only choice and generally most patients are extremely happy with the improvements in their vaginal competency.  Patients are generally very satisfied with the improvement in sexual satisfaction and gratification, with increased tightness of the vaginal canal during intimacy.
A Surgical Vaginoplasty will include the operating room cost and postop care.  The cost of the surgical Vaginoplasty is starting from $4,500.  Financing is available through iFinance Canada.