What is Female Pattern Hair Loss?
Female hair loss occurs from a variety of genetic, hormonal, environmental, medical conditions.
Good Candidates
Based on individual health history and medical issues that causes the hair loss, Dr. Mulholland uses the tools to assess and select appropriate hair loss treatments based on individual needs and utilize the methods that works best for the patient. Good candidates are patients without reversible metabolic, hormonal or medical causes for their thinning hair and who have realistic expectations about the kind of hair density that can be achieved.
Listen to our Podcast on Cosmetic Surgery
Introduction
Female Hair Transplant has vastly evolved in the past 20 years. Today, the technology has led to more efficient methods of hair transplantation.
Dr. Stephen Mulholland and his team have mastered the art of FUE and Hair Restoration for women who are experiencing hair loss, thinning and in some areas, balding. Using the automated and robotic devices such as the NeoGraft and Artas systems, hair restoration is less invasive and offering better results compared to the old system strip grafting.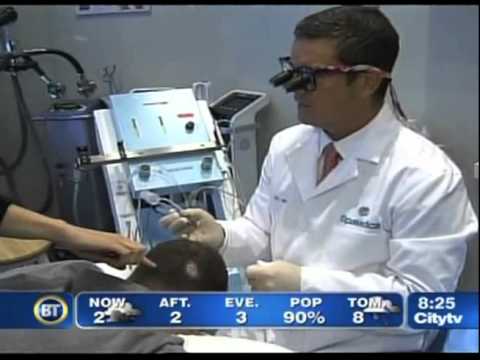 Main Causes of Women Hair Loss
The following are the reasons that explain hair loss in women:
Side effects from medications

Hormonal changes (after child birth)

Menopause

Sudden weight loss

Anemia

Thyroid problem

Emotional and physical stress

Polycystic Ovaries

Results from trauma or surgical procedure
Mechanical, Physical and chemical induced diffuse hair loss are also known causes: Traction alopecia (due to tight braiding hairstyles for a long period of time) and Destructive chemical hair product (hair relaxant chemicals)
What are the typical patterns for Female Pattern Hair loss?
The common classification for female hair loss pattern is depicted by Ludwig Scale. The characteristic of androgenic alopecia in women is that female hairline remains intact and mainly thins out the top part of the scalp. Diffuse thinning is usually the case where generalize thinning is noticeable from front to back of the scalp.
Female Hair Loss Treatments
Treating Female hair loss needs to be examined thoroughly:
Non-surgical treatment program
The non-surgical treatment is often the best place to start, as many causes of female hair loss will respond to the non-surgical hair restoration program. Our non-surgical hair rejuvenation program consists of the following Medical Trichology Regimen:
NeoLTS
High fluence low level light laser therapy on the scalp. Using a combination of RED and GREEN light directed at the scalp, the mitochondria of the Hair bulbs are stimulated to grow and be resistant to hair loss.
Medicated Shampoo
A unique combination of nutrients and medical-grade biological stimulants are provided in the form of a medicated shampoo.
Morphogen Treatment: A topical serum of nutrients combined with 15% Minoxidil (a scalp vasodilator) with improve blood supply and other essential elements to the challenged hair bulbs.
Injectable Bio-stimulants
Proprietary combinations of medical bio-activators are injected directly into the scalp to stimulate the DNA of the dormant and challenged hair bulbs.
The FUE, or Follicular Unit Hair transplantation technique is one of the successful ways to bring back more density and thicker, more luxurious hair in a single session. The Robotic and Automated techniques, Artas and Neograft FUE are very compelling procedures for female pattern hair loss patients as there is no linear scars that result from the procedure.
Many patients benefit from a combination of both techniques, the non-surgical program, followed by Robotic and Automated, Artas and Neograft linear scarless hair transplantation. The non-surgical program "toughens" up the remaining hair bulbs on the thinning scalp so that the risk of "shock hair", also called Telogen Effluvium or "shock hair" is greatly minimized. Patients undergo a comprehensive personal consultation with Dr. Mulholland and his staff to determine if you are a good candidate for hair restoration surgery and also the best way to diagnose the underlying reasons for the hair loss. The final diagnosis will ensure the benefits of both the exclusive non-surgical treatment program and whether FUE hair transplant surgery is also a good option for resolving the hair loss problem.
Follicular Unit Extraction (FUE) For Women
SpaMedica surgical approach deploys the Artas AND Neograft robotic and automated hair transplantation harvesting systems to ensure there is no linear scar. In addition, the area of scalp at the back that must be shaven is hidden under the longer hair above it, so, even in the early postoperative phase, those around you will not notice a donor site and you can keep you procedure a secret In female hair restorations, the FUE harvested grafts are placed methodically between existing hair which requires an extra amount of expertise to avoid shock loss to the adjacent hair.
Once the safe donor zone has been selected, hair above the zone is lifted and pinned out of the way. This hair will fall over the FUE donor zone completely hiding it from view. Once the long hair has been elevated out of the way, a patch of scalp hair is shaved short enough to harvest use the FUE technique, but small enough that it can be hidden. When prepared, the donor site is then anesthetized using a local anesthesia that is similar to what dentists used to freeze teeth and gums.
Patients can expect to receive a simple local anesthetic in both the safe donor zone and the recipient area. The amount of discomfort during this injection is very mild and minimal, similar to what patients might experience with Botox Injectable or soft tissue fillers.
After the scalp tumescent anesthesia is accomplished, a very tiny needle is used to "slit" between the existing hairs, a-traumatically, allowing placement of the FUE hair grafts. The cut is much smaller compared to men, so the long hair at the back of the scalp can hide the shorter hair.
FUE harvesting method uses rotating punches to remove tiny hair families, without the traditional surgical knife, where a large chunk of scalp is removed with hair bearing hair (also called a strip graft). The more old fashioned strip graft technique is not as popular as it result in a donor site does with large obvious linear scar.
During the SpaMedica robotic and automated FUE procedure, the individual follicular unit family grafts are removed one at a time with a tiny rotating punch. The small defect left behind by the punch is most commonly 0.9-1.0 mm in diameter and is not even visible at 7-10 day. The FUE grafts are excellent to treat permanent hair loss for female patients, as the hair bulb and shaft anatomy is not altered and is "taken as it is supposed to grow" and implanted in the same fashion for natural thick looking hair
The FUE Hair transplantation procedure is also used to treat Hair loss of the eyebrows and eyelashes. The FUE Hair transplantation procedure is excellent for facial hair restoration and enhancement procedures as the number of FUE grafts is usually very small and the patch of FUE donor hair that must be shaved is very small and easily hidden.  The transplanted FUE hairs are usually selected from the temporal area of the scalp as they have the best facial match and are usually single hair FUE grafts.
SpaMedica has latest and advanced technologies in hair restoration solutions for their patients, using digital imaging and precision robotics and automation to extract viable and healthy grafts for hair restoration
Due to meticulous and careful techniques and depending on the number of grafts required, the hair restoration procedure usually takes between 4 and 8 or more hours. The transplantation day is divided into two portions.
The morning is spent harvesting the grafts and patients spend this portion of the procedure comfortably lying face down in a massage bed. The procedure is made more relaxing and comfortable with the oral sedation administered by Dr. Mulholland.
The afternoon is spent on your back, on a comfortable massage bed for the actual FUE graft implantation process, also painlessly performed under local anesthesia. This afternoon implantation is entertaining as Dr. Mulholland has furnished his dedicated hair restoration room with a flat screen, Netflix and iTunes so you can watch your favorite movies or TV shows.
Dr. Mulholland will administer oral sedation and anti-inflammatory, which combined with the expert deployment of local anesthetic, will make your day, painless, sleepy and comfortable.  Most patients even recall the specific events of their day!
The cost of your procedure will depend upon the number of FUE grafts required and whether or not a non-surgical program is deployed before your FUE Hair Restoration. In general, SpaMedica FUE hair restoration prices start from $5,000 plus applicable taxes, depending upon the number of FUE grafts required to achieve the expected results.