Summary
Loss of breast volume can occur due to hereditary factors, normal aging changes, or following pregnancy and breastfeeding. The Mastopexy achieves increased breast volume and projection as well as elevated nipple areola complex levels. 
Alternative Names
Mastopexy Surgery
Length of Procedure
2 hours
The Breast Lift in Toronto, ON provides shape and volume to the breasts. The procedure does not require breast implants, and offers well-defined shape to the chest area.
Listen to our Podcast on Breast Augmentation
Introduction
The loss of volume in the breast, most notably in the upper breast poles, is accompanied by a deflation and flattening of the breast. Our cosmetic surgery team will discuss the mastopexy surgery and/or implant rejuvenation options with you to make sure you get the best treatment possible.
Patients will have to discuss their medical history and drugs they have taken in the past year. Vectra 3D Imaging is offered for patients who want to visualize how their breasts will potentially look if implants are required along breast lift.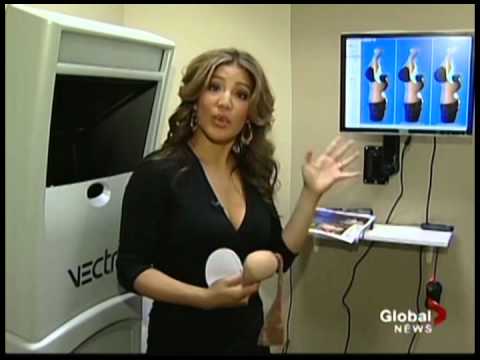 Breast Lift in Toronto (Canada)
As we age, our skin loses its elasticity. This often leads to breasts to start sagging or causes a very droopy effect. Skin inelasticity often progresses faster in women going through pregnancy, weight loss or gain, and sometimes, your body may be biologically predisposition to droopy breasts as you grow older.
The purpose of the Mastopexy Surgery in Toronto is to lift the breast up for a more feminine and youthful appearance. The surgery itself does not increase the size of your chest like breast augmentation, however, patients may request for implants if they wish to increase the volume of their bust.
There are several different types of incisions with variable degrees of lifting power and capability. The most limited kind of breast lift is an incision around the areola with the removal of some of the loose skin. The second type of breast incision called the "lollipop incision" involves a vertical limb under the areola that stops at the under-breast crease.
The most extensive breast lift is the mastopexy procedure ("the anchor incision") which involves an under the breast scar together with the lollipop.
Length of the Surgery
The mastopexy procedure takes approximately two hours to perform and is done under IV sedation or local anesthetic. Local anesthesia and some oral relaxation pills are very common sedation methods when undergoing breast lift procedures. There will be a fully certified anesthesiologist monitoring your IV sedation. Your post-operative care will be in certified recovery rooms with a well-trained recovery room nurse to ensure optimal care and safety.
Scarring
Following your breast lift procedure, a series of laser treatments will be conducted to minimize the risk of visible scarring. These laser treatments can also ensure that you have the greatest probability of avoiding capsular formation and for established capsules will help soften the stiffness that can occur sometimes following breast augmentation and breast lift surgery.
The short scar breast lift is often more aesthetically pleasing and does not include the horizontal scar under the breast. Often the procedures can be performed under local anesthesia alone, or together with light IV sedation.
Occasionally excision of soft tissue is combined with breast augmentation at the single stage, whereas in many circumstances two-stage breast rejuvenation, breast lifting, removal of the skin followed up by breast augmentation is recommended. In the properly selected patient, a large breast implant can eliminate the need for external breast lift scars.
There are four types of Breast Lifts available to our patients. However, your surgeon may suggest the most suitable one based on your upper chest profile.
Cresent Lift – The least invasive of the four types, a crescent of skin is removed above the nipple to elevate the nipple position.
Donut Lift – The donut lift proposes fewer incisions than the traditional. The donut lift uses a singular incision around the areola. No vertical scars will appear on the underside of the breast.
Lollipop Lift – The Vertical Scar Mastopexy is an incision made from the crease of the breast vertically and overlays the nipple. This is often the choice with women with sagging breasts and nipples pointing downward.
Anchor Lift – The Anchor Lift is the most invasive of the procedures with the incision similar to the lollipop, with scarring also running across the bottom of the breast crease. The scarring forms an anchor-like shape. Although it is the most invasive of the four, it is most preferred for patients that have a long inframammary fold, the place where the chest and breast meet.
Breast lift surgery requires several days of recovery. Your goal may be achieved through a breast implant inserted alone, or removal of extra skin from the breast to tighten the envelope and add more projection. Sometimes a combination of skin removal and a breast implant is performed.
You will go home in a bra with only light dressings over the incision lines 2-3 hours following your procedure. The bra is worn as a support dressing for 2-3 weeks. Sutures are usually completely removed within 2-3 weeks. Initial discomfort is easily controlled with oral medication. Light activities may be started in 7-10 days.
After your recovery period, get into a routine of exercising and staying hydrated. Over time and due to aging, the breast can start to sag again; a second procedure will be advised.
The length of time depends on the elasticity of the skin and the techniques used during the surgery. It is best to follow the proper nutrition and work on avoiding anything that will have negative impact on health.
Risks that are general to Breast Lift surgery include infections, hematoma, and anesthesia complications. Other risks and side effects include poor scar healing, breast asymmetry, contour irregularities and the possibility of revision surgery.
Speak with the surgeon to discuss other risk factors and complications in relation to your health.
To minimize your risks and complications, follow a healthy diet and doctor's guidelines for pre- and post-surgery. Do your due research when choosing your cosmetic surgeon:
Make sure they specialize in the field of surgery you are seeking
Take into consideration their years of experience
Ask for before and after pictures for their Breast Lift
The character of the surgeon and staff while dealing with you as a patient and guest
Following your procedure, do not rush into getting back to your daily routine. Your body and tissues will need time to heal. Don't start thinking about doing bench presses and push-ups for at least 5-6 weeks. Rather, discuss with your cosmetic surgeon regarding proper time frames.
Breast lift surgery is very successful at achieving increased projection as well as elevated nipple areola complex levels and there's a high degree of patient satisfaction with the procedure. You can expect smaller, perkier, more elevated and shapelier breasts.
With aging, our skin loses its elasticity. Mastopexy provides women who have lost that desired elasticity in their breasts from aging, weight loss, and pregnancy with an opportunity to have lifted breasts that fits well with their body image, profile, and enthusiasm.
The typical cost for a Breast Lift in the city of Toronto starts from $5,999 depending upon the extent of surgery and if an implant is included in the aesthetic plan. SpaMedica offers surgical financing options, it is best to speak to our team regarding payment options.
Your surgical cost will depend on various factors:
The invasiveness of the procedure
Your body profile
Whether your request includes implants or not
For a detailed cost of the procedure, we recommend you to speak to our medical representatives.
The next step for you is to book a consultation with our medical staff. During your consultation, you will be walked through the procedural details regarding Breast Lift and alternative options.
Be prepared to discuss your medical history and do not be afraid to share your goals in regards to the surgery. Come to the clinic with realistic expectations.
At SpaMedica, we provide patients looking for a Breast Lift in Toronto, ON. Our clinic is located in Yorkville, and we have an amazing staff to work towards your goals.
Dr. Bray, who has been on Staff at the Toronto General Hospital, Western Site for 15 years, where he specialized on post cancer and trauma soft tissue reconstruction. This reconstructive experience has resulted it Dr. Bray becoming on of Canada's most sought after Bodylift surgeon. Dr. Bray specializes in Lifting of the breast, arms, tummy, back, buttock and thigh. Dr. Bray is also well known for his expertise in BodyTite RF liposuction and non excision BodyTite Male gynecosmastia and overall body contouring and shaping of the tummy, thighs, flanks, arms and bra-line using BodyTite.