Alternative Names:
Hymen Repair, Hymen Restoration, Hymen Tightening, Hymenorrhaphy
Length of Procedure:
30-60 minutes
Recovery Time:
1 – 2 days off from work 4 – 6 weeks before resuming sexual intercourse
Anesthesia:
Local anesthesia, but can be performed under general anesthesia
Are You A Candidate?
Any female who desires to restore the Hymen for religious, cultural or social reasons, for the perception of vaginal virginity may be a candidate for a Hymenoplasty.
Listen to our Podcast on Vaginal Rejuvenation
Citynews Vagina Labiaplasty Aug 2017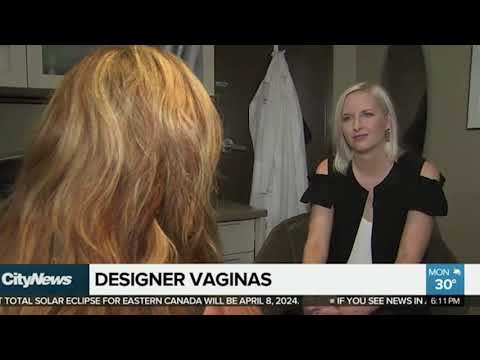 Citynews Vagina Labiaplasty Aug 2017
A hymen can rupture or stretch for any number of reasons, such as:
Intercourse

horse-back riding

gymnastics

inserting of a tampon
Some women are also born without a hymen.
Typically women consider undergoing a hymenoplasty for the following reasons:
Victims of rape

Women who want to surprise their partners

Women whose hymens have ruptured over the course of their lives

Women who are from ethnic backgrounds that consider the hymen being intact as proof of virginity
The hymen is a small bridge of mucosal tissue (vaginal lining) in the vaginal entrance (introitus) to the vaginal canal. It is the hymen, or bridge of the vaginal lining that is disrupted at the time of first intercourse.
A Hymenoplasty is the reconstruction of this mucosal bridge that will restore the perception of virginity and lack of penetration from intercourse.
There are many different types of Hymen configurations and these have been classified into 4 anatomic variants, depending upon the degree of bridging tissue that covers the entrance to the vaginal canal.
Figure 1. Classification of Hymen variants
Our SpaMedica gynecologist, Dr. Sasha (a nationally renowned minimally-invasive gynaecologist) who also specializes, in female vaginal health and wellness, performs the procedure.  The Hymenoplasty is performed in the comfort and safety of the renowned SpaMedica Plastic Surgery Center under local anaesthesia and light sedation.
A small mucosal flap bridge is developed from the existing vaginal lining and is positioned and sutured in place to simulate the natural hymen that is present prior to vaginal penetration.
Figure 2. Hymenoplasty is the re-creation of a Hymen like structure that crosses and obstructs the opening to the vaginal canal.
Figure 3.  Dr. Sasha Syvstonyuk, SpaMedica's Head of the Female Health and Vaginal Wellness program.
After Care Instructions and expectations
While recovering, sitting in Epsom salt baths two or three times a week will promote faster healing, and will be very soothing. You'll need to avoid swimming, using tampons, and wearing thong underwear for at least a couple of weeks after surgery. You'll also need to abstain from sexual intercourse for at least four weeks after the procedure.
You should be able to return to work the day after surgery, but full recovery can take up to six weeks.
Risks/Is It Safe/Side Effects
Hymenoplasty is a safe procedure that presents few risks. You should expect some discomfort, swelling, and a little bleeding for a few days following the surgery. SpaMedica will prescribe pain medication to help alleviate discomfort, as well as a topical antibiotic to ward off infection.
Patients who undergo Hymenoplasty appear to be virgins, the benefits vary based on religions beliefs and reasons for the surgery.
The next step is a consultation to determine your goals and create a plan to achieve them.
The director of the SpaMedica Female Health and Vaginal Wellness program is Dr. Sasha Svystonyuk, a well-known Canadian gynaecologist, who specializes in minimally invasive gynaecologic surgery.
Dr. Sasha (as he is known affectionately by his SpaMedica patients) see every SpaMedica Vaginal Tightening and rejuvenation patient and performs a comprehensive pelvic and vaginal exam to determine if you are a Hymenoplasty candidate.