Mini Facelift
A Mini Facelift involves the removal of a small amount of loose skin from the jowl and upper neck with "stealth" incisions hidden inside and behind the ear.
Alternative Names:
Endoscopic Facelift, Traditional Facelift
Recovery Time:
14-20 days
Before & After Gallery
Anesthesia:
Local or General
Length of Procedure:
1 to 4 Hours
Cost:
Cost starting from $10,000
If you are an active outgoing person who cares about their facial appearance and signs of facial ageing and want the best possible skin and soft tissue envelope, then contact us to schedule a mini face lift appointment with Dr. Stephen Mulholland.
Alternative Names: Weekend Lifts
Introduction
As the face ages we lose fat volume. With deflation and loss of fat volume we experience a deterioration and descent of our soft tissue. This laxity creates jowls, excess neck and cheek skin. Traditional facelift has been the mainstay of therapy.
The many social, professional and lifestyle benefits of a mini face lift procedure can enhance one's appearance and help harmonize a patient's sense of well-being and a projection of well-being and vitality.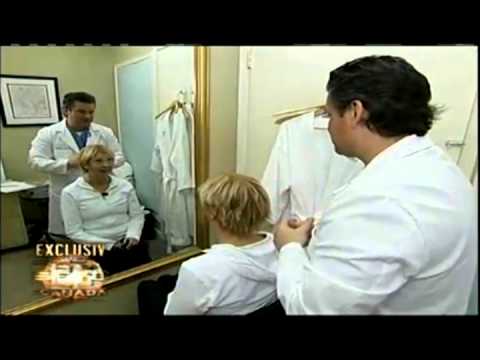 Introduction
The mini face lift procedure can be performed under local anesthesia. The procedure takes less than two hours to perform and the incisions and approaches are hidden in the scalp and behind the ear. There is a minimal amount of bruising and most patients can return to work within a week. The procedure is performed under local and oral sedation. There is no need for intravenous or general anesthesia. The results of Dr. Mulholland's mini face lift can last for five years or more and the results have been heralded as some of the finest minimally invasive work in North America.
Following your mini facelift procedure, Dr. Mulholland  will recommend a comprehensive postoperative care regime over a six month period of time that is included as part of your mini lift procedure.
These minimally invasive services will include Intense Pulse Light Photo Rejuvenation, FotoFacial, Laser Fractional techniques, and soft tissue fillers such as Voluma, Juvederm, Restylane, Perlane, Botox Injectable and Dysport Injectable.
The combination of these non invasive skin enhancement techniques together with the mini face lift minimally invasive facelift procedure will leave your face looking fresh, youthful and rejuvenated. The comprehensive combination of attractive looking skin together with minimally invasive surgical techniques has made Dr. Mulholland and his certified SpaMedica® Plastic Surgery Center, one of Canada's most reputable and busiest facial rejuvenation and face lift practices.
Your comprehensive mini facelift program will be complimented with a recommendation for our medical grade Home Skin Care which will help support and enhance your mini facelift results.
Candidates include all those individuals with aging signs of the face, including laxity and droopiness of the skin of the brow, cheeks, jowls and neck. Candidates for Mini Lifts generally fit the following:
If you have experience a loss of skin elasticity and muscle tone of the lower face and neck

If you have the appearance of jowls and deep creases at the corners of the mouth

If you have developed lower facial and neck wrinkles

If you believe you lack youthful chin and neck contours

If you have think you have tired facial appearance
The procedure will provide you a rejuvenated, youthful and natural-looking contour to the face and neck. Other benefits of the procedure include:
Minimal scarring as the scars will be well hidden with facial contours and hairlines

Minimal side effects as there is less bruising and swelling compared to traditional facelift

Self-confidence in your new look
The risks and complications for the Mini Facelift are the following:
Wound infections – this is usually treatable but should be attended to the doctor or surgeon right away.

Hematoma is possible especially in patients who have a family history of excessive bleedings. Discuss your family and medical history including medications (especially blood thinners) with the doctor.

Facial nerve damage

Adverse effect to the anesthesia
Most patients will be asked to stay overnight for optimal "lift" monitoring and then goes home the next day without the need for any dressings.

Minimal initial discomfort is easily controlled with oral medication.

Sutures are removed within 10-14 days.

Bruising and swelling usually decrease to "socially acceptable" levels in 10-20 days.

An early result is evident in 4-6 weeks or sooner with continued improvement for several months.
The outcomes for surgery is a more rested and youthful contour to the face and neck. Well hidden scars inside the ear and behind your ear that allow you to wear your back at any time.
Though the results are expected to last around five years, to keep healthy results, we suggest following a healthy diet and following proper skin care program. Keep your body active and follow your surgeon's instruction on post-recovery.
Mini facelifts starts from $9,999. At SpaMedica we offer payment financing, inquire with our medical staff if you can qualify for it.
If you are interested in seeking a consultation with SpaMedica, Dr. Mulholland and his team of experts, simply fill out our online consultation request form or call SpaMedica now at 1-877-211-7505 to schedule a consultation.