UltraShape Summary
UltraShape is a nonsurgical fat reduction device that uses ultrasound waves to target and remove areas of excess fat and tighten the skin.
Length of Procedure
30 minutes per zone
Where
SpaMedica Clinic, Yorkville, Toronto, ON
Are You an UltraShape Candidate?
Ideal UltraShape candidates are individuals who want a noticeable localized, permanent reduction of fat but do not want to undergo invasive surgical procedures such as liposuction.
Common areas for treatment with UltraShape include the lower and upper abdomen, the hips, the bra line at the back, the hips and flanks at the sides, as well as the inner and outer thighs.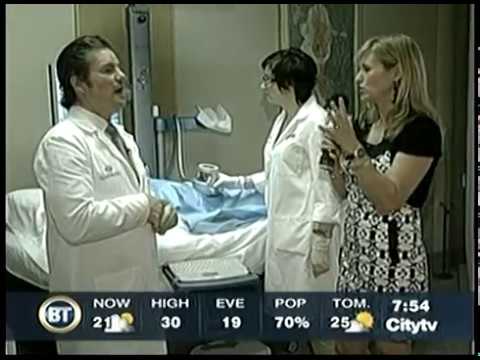 Are You an UltraShape Candidate?
Your UltraShape consultant at our SpaMedica clinic in Toronto will explain the rare risks and complications before your treatment program starts during the UltraShape consultation.
What is UltraShape Nonsurgical liposuction and fat reduction?
UltraShape is a high-tech, nonsurgical liposuction fat reduction device, used to reduce unwanted areas of focal fat.  UltraShape uses high-frequency focused ultrasound; the same kind of ultrasound that you might have experienced during diagnostic imaging of your fetus or your heart.  UltraShape focuses the ultrasound waves to target unwanted superficial fat for permanent fat reduction. UltraShape is a new and exciting way for Toronto nonsurgical liposuction and fat reduction patients to manage unwanted areas of excess fat.
How is UltraShape performed and how does UltraShape work for fat reduction?
UltraShape is a nonsurgical ultrasound, permanent fat reduction technology that is applied to the external surface of the skin. There is no surgery required, no anesthesia and no local anesthetic needed to perform the procedure. A small layer of ultrasound gel is placed over the area of unwanted fat.  The UltraShape transducer is then moved painlessly across this unwanted area of fat, using a very high-tech video tracking guidance system to ensure every millimeter of unwanted fat is treated in the zone.  The entire treatment takes approximately 30 minutes per zone and patients are able to return to normal activities immediately. The focused ultrasound waves get selectively focused on the unwanted fat, oscillating the fat cells until they implode, a process called cavitation. The cavitation process results in a disruption in the fat cell membrane and the fat cells death.

Figure 1. The UltraShape V3 transducer emitted pulsed, focused high frequency ultrasound waves that selectively focus on areas of unwanted fat tissue. The focused ultrasound waves result in cavitation and a permanent fat reduction of fat cells.
What kind of anesthetic is used during an UltraShape Toronto fat reduction treatment?
UltraShape Toronto treatments for fat reduction and nonsurgical liposuction of unwanted fat are completely painless.  There is no local or topical anesthesia required for an UltraShape treatment and patients find the entire process very comfortable.
Is the UltraShape fat reduction procedure painful?
SpaMedica and Dr. Mulholland have selected the best combinations of nonsurgical liposuction and fat reduction technologies to result in the greatest reduction of fat in the most comfortable fashion.  Fortunately, UltraShape and its high-frequency focused ultrasound are painless, well-tolerated, very predictable and reliable in its ability to permanently reduce the fat cells in areas of unwanted collections. UltraShape fat reduction is also combined with bulk radiofrequency heating devices, such as BodyFx which will also deliver permanent fat reduction as well as skin tightening
How long does the UltraShape fat reduction procedure and program take?
UltraShape fat reduction treatment times vary depending on the thickness of fat and the size of the zone.  However, most UltraShape Toronto fat reduction treatment times take approximately 30 minutes per zone.  Common treatment zones include the hips, abdomen, outer and inner thighs.  In general, UltraShape is performed once every two weeks for three sessions and patients can complete their nonsurgical liposuction with permanent focal fat reduction in six weeks.  Dr. Mulholland and SpaMedica will often combine UltraShape with other permanent reduction fat technologies, such as the BodyFx that is also painless and efficacious in permanently reducing fat and is synergistic with the high-frequency focused ultrasound, UltraShape treatments.  This combination approach to nonsurgical liposuction and fat reduction makes SpaMedica the right choice for nonsurgical liposuction Toronto patients.
There is no maintenance required following the UltraShape nonsurgical liposuction and fat reduction program.  The fat cells that have been killed are permanently destroyed.  Individuals just need to maintain their body weight to ensure a long-term focal fat reduction result.  SpaMedica's combined nonsurgical liposuction and fat reduction program will often combine UltraShape with radio frequency energy bulk heating treatments for skin tightening such as BodyFX.  Skin tightening, however, is temporary and does tend to degenerate with age. Maintenance nonsurgical radio frequency tightening treatments should be performed as a single treatment every three to four months over the fat reduction zone in order to maintain the tightest possible skin.
Contraindications to UltraShape treatment include any individuals who are pregnant or areas of skin ulceration, infection or skin cancer directly in the zone of treatment.
How long is the recovery following UltraShape treatment and are there any UltraShape side effects?
There is no recovery period following UltraShape fat reduction.  Patients can get right off the treatment table and return to normal activities of daily living.
There is very little risk associated with an UltraShape Toronto fat reduction procedure.
UltraShape side effects include a very mild degree of swelling and redness that usually disappears that day, unlike certain procedures such as Liposonix.  Patients will look perfectly normal that day and, in fact, can go out that evening in evening wear or a cocktail dress or even wear a bathing suit later in the day with no obvious evidence that a treatment has taken place
What kind of UltraShape results can I expect following my nonsurgical liposuction fat reduction program?
UltraShape is one of the most high-tech nonsurgical liposuction and fat reduction treatment devices available.  Recent advances include vertical depth focus that allow the ultrasound beam that kills the fat to focus on multiple levels at once, allowing a greater thickness of permanent reduction of fat cells.  This vertical depth focus UltraShape is very new and Dr. Mulholland has been at the forefront of working with the company in developing this technology.  Dr. Mulholland and SpaMedica have found that after a series of three UltraShape treatments, once every two weeks. UltraShape Toronto patients can expect results of between four and six centimetres of circumferential fat reduction. After three treatments in six weeks, generally most patients will go down one or two dress or pants sizes and have a noticeable reduction in the areas of localized fat.  Of course, the human body is a biologic system and no guarantees can be made, but with SpaMedica and Dr. Mulholland's combination nonsurgical liposuction treatments, the vast majority of patients notice a significant focal fat reduction results. UltraShape will be used to gently produce preeminent fat reduction.

Figure 2.  UltraShape Before and After. UltraShape Toronto focal patient having had her abdomen treated. This degree of fat reduction result is quite common.
How long will my UltraShape nonsurgical lipo and fat reduction results last?
The UltraShape fat reductions, treatment and its effect on the fat cells are permanent.  Those fat cells that are destroyed will not return as long as patients are consistent in their weight and do not gain weight following their treatment program; they should have consistent long-term circumferential reductions and noticeable thinning over the treatment area.  If patients are to gain weight after their UltraShape treatment program, the fat will go elsewhere, not to the areas that were treated.

Figure 3.  Fat specimen showing the adipose tissue.  A. Before treatment and then B. The fat immediately after UltraShape treatment, showing gentle cavitation pockets with no fat and painless fat destruction. The destroyed fat pockets collapse on themselves resulting in a permanent contour improvement.
The benefits of UltraShape treatment, like all other nonsurgical fat reduction procedures is that there are no incisions required. UltraShape is an outpatient treatment with little to no downtime and pain. Finally, but most importantly, UltraShape is extremely effective in reducing stubborn areas of unwanted body fat.
Toronto nonsurgical liposuction patients who have their procedures performed at SpaMedica have very cost-effective program pricing bundles.  The price depends upon the number of zones treated.  Each subsequent zone treated is subject to customer value pricing and repeat zone special pricing.  In general, an UltraShape Toronto fat reduction treatment starts from $1199 per zone, which is less than one-third the cost of surgical liposuction for that area.
Dr. Mulholland and SpaMedica, have been pioneers in the development of nonsurgical liposuction technology, including UltraShape, BodyFx, Vela Smooth, VelaShape, Venus Freeze, SmoothShapes and many others.  By seeking treatment at SpaMedica, you will receive the best fat reduction technology and combinations of technology to facilitate the optimal localized fat reduction results.  In addition SpaMedica allows you to take a significant amount of your UltraShape fee investment and apply that against future minimally-invasive treatments such as SmartLipo or BodyTite for a more surgical enhancement of your contour.